Home
›
Smart TVs (LG, 2016+ Samsung, Sony, TiVo, Toshiba, VIZIO)
If you have not already, we suggest setting your Plex username to something else rather than email which is displayed on your posts in forum. You can change the username at
https://app.plex.tv/desktop#!/account
Welcome to our forums! Please take a few moments to read through our
Community Guidelines
(also conveniently linked in the header at the top of each page). There, you'll find guidelines on conduct, tips on getting the help you may be searching for, and more!
VIZIO Television & PLEX Server APP: Connection Disconnected Error Message
Michael-Alan
Posts: 65
Members, Plex Pass
Plex Pass
Plex is not working on my Vizio TV. I am having the same issue as the guy who recorded this YouTube video: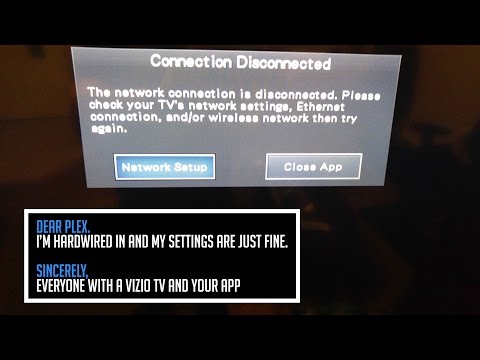 I am just wondering if any of the Plex developers are currently working to fix this? They must be aware of the issue.
Tagged: