Home
›
PlexConnect (Apple TV 2 & 3)
Welcome to our forums! Please take a few moments to read through our
Community Guidelines
(also conveniently linked in the header at the top of each page). There, you'll find guidelines on conduct, tips on getting the help you may be searching for, and more!
OpenPlex (OS X APP)
wahlman.j
Members, Plex Pass
Posts: 3,266
Plex Pass
OpenPlex 0.6
OpenPlex developed by Wahlman.j (Source Code), CyberGhost84 (GUI) & Flipman6 (Obj-C)
Demo video (watch in 1080P+ by changing the settings button on the youtube window after your press play):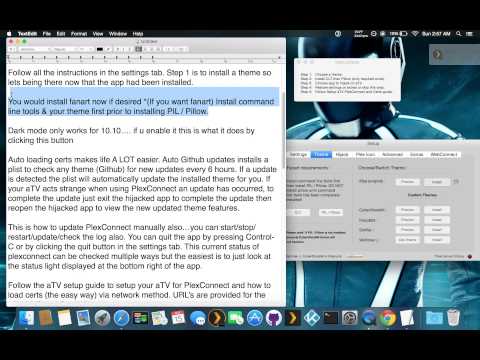 DOWNLOAD <---Currently not working see latest posts for a workaround in this topic!
Wiki // Roadmap // Changelog // License // FAQ // Beta News
*PLEASE READ THE FAQ BEFORE POSTING IN THIS TOPIC!
*OpenPlex has been successfully tested on 64-bit 10.6.x, 10.7.x, 10.8.x, 10.9.x, 10.10.x, 10.11.x Beta (15C48a)

32-bit OS X versions are not supported!